The madness of an autumn cold front coming through! I launch myself out of bed and scramble with the desperate dogs on the polished wooden floor. For a pooped person, striding pajamas in the pitch dark down two broad passages and slipping on loose woollen mats into closed bedroom doors is good old-fashioned chaos deserving of a standing ovation! I'm heading for the lounge door, which opens onto the massive farmhouse stoep. My hands pat the antique sideboard near the entrance as though I'm fully blindfolded. The vintage key for the door is somewhere here. Got it! I step outside to the first light of daybreak; a crisp and refreshing wake-up breather. It's one degree Celcius at the crack of dawn.
While the dogs mark their scent on the old plough in front of the stead, in the house the warmth of the lounge fireplace is inviting. I take a seat, on the floor, as close to the fire as possible; I'm whacked and stiff. Warm ash is blushing coals of soft limp orange. What a pungent woody smell in here! The fireplace kindled from deep meaningful conversations and mugs of hot chocolate that ran past midnight. The smoky fragrance permeating the room is warming my chill-blanded toes and sore muscles and luring me to reflect on our most recent authentic confabulations. Last night, when the coal burned hot, and the kettle dimmed the lights, a certain observation raised interesting commentary around the fireplace:
"She didn't express her real pain and it almost cost her her life!"
"Are you serious?"
In my sheepskin pantoffels1 this morning, my expressions are blundering as they fully wake on the hard floor, yet I feel as though I have just borrowed the eloquence of an angel. Midnight deliberations are stirring up life-changing thoughts and sparking a tangible conviction as the cock crows; We don't always see how much our inhibitions cost us! Why is it so hard to share our real pain; a degree of vulnerability that hurts?
But he said to me, "My grace is sufficient for you, for my power is made perfect in weakness." Therefore I will boast all the more gladly about my weaknesses, so that Christ's power may rest on me. That is why, for Christ's sake, I delight in weaknesses, in insults, in hardships, in persecutions, in difficulties. For when I am weak, then I am strong.

2 CORINTHIANS 12:9 – 10 (NIV)
Resistance to vulnerability is taught through life experiences from a young age. Here on the farm, Karoo days are spent cranking up the Liston generator for 'off the grid' hard-core survival between five camps and twelve working windmills. Sheep are slaughtered for lamb, buck shot for venison, and the real men insist 'please don't sensitize our young boys'. The dogs hunt pests out of the shed, encouraging owl activity which alleviates mice and dassies from chewing important wires and prevents damages to the parked Austin truck and tractors. The rooster alarms the world's 'Great Father' clock, nature's way of silencing irritations of noisy cocks in our ranting ears, for the beauty of a gleaming dawn day. Meals are provided by the hard-working veld. Life lessons are raw on the farm, leaving one perturbed at the sight of flowing red blood if you're squeamish.
Wherever we are, our bloodiest moments are raw. Through our friendship with the world, vulnerability is easily suppressed in our pain for what we consider a better or more powerful countenance – that of 'strong'. Generations have defined 'weak' by what the world has taught us about 'weak'. Today, men are taught 'don't cry' and women are told to suppress their reckless emotions. This morning around the fireplace, on the hard floor, our heavenly Father is leading me to personally reflect upon recent chats around the hot coals and my most vulnerable inklings. The things that have pained me. Which I haven't shared in a prayer of late, with God. Perhaps through my friendship with the world, I've been blindsided. The Scottish proverb, 'The blood of the covenant is thicker than the water of the womb' with all its ilk, has been traced back to twelfth-century writings and is suggestive of tenacious red blood and lackluster water. The world has taught me that 'weak' means fragile, cowardly, and even at times sick, unfaithful, or traitorous. As a result, I've tried to impress God with my strength and refrained from lamenting in the moments of my uttermost bloodiest pain.
How could we ever impress God?
Prince of preachers, Charles Spurgeon, in his sermon 'True Prayer, True Power' on August 12, 1860, delivered a powerful statement which springs to mind;
"God doesn't expect you to gather up the most excellent scriptures or sayings when you pray. Show me a man in the bible who quoted other people's sayings or scriptures when he prayed. No, they prayed in their own words. God wants the new oil from you. Freshly distilled from the olive of your soul. Not fancy sayings or other people's stuff. We insult God with our unbelief when our vulnerability lies dormant. We insult him on the Mercy Seat. The spot where His condescension, promises, and grace is most fully manifested."
Had I snubbed God with my fictitious countenance of strength; keeping my pain from Him, and others? Stop rambling and share the real stuff! Your stuff. The bloodiest-red stuff! Share it with God, then share it with others.
I grab a few logs, newspapers, and get a fresh early morning fire going to settle uttermost thoughts and warm the air. While the household sleeps, contending for the Mercy Seat over a sudden and impromptu talk with God is too good to leave! These frozen-stiff hands aren't going anywhere in any hurry! Right here, right now, I'm talking to God like the wolf cries to the moon! Perhaps we have more than we imagine to talk to God about. The silence around the fire seems like a golden moment.
In all good conscience, I do have a little confession to make; I've put 'vulnerability' in the 'weird box'. And labelled it with two signs you surely won't miss because they're that big:
'Not normal', and 'Don't you dare touch!'
Perhaps you're here because you've walked this weird road of a painful dilemma with me before, heeding to the same signs which we've labelled for ourselves. To protect ourselves from hurting.
Making it personal, on a simpler practical level 'in the now', a girl certainly isn't invincible when trying to make a red-hot fire. Right now, I am totally vulnerable and my hands are black. These flames are trying to burn up a proper blaze to press in deeply to the blood of Jesus with infused Holy Spirit-filled inspirations. Why is the fire dying on me? In front of you? To add, I haven't brushed my hair or teeth and feel like a wreck! Should you mention anything polite regarding a catastrophic 'fire failure' or the mess I'm in, my bruised ego shall more than likely lash out a brilliant comment to make you feel, "gosh – she's super hilarious!" And I'll have done a grand job of guarding my botch up, and will take my fragile persona to a new level of false blue heights. All to avoid – p a i n!
But today I'm not falling for lies. I'm all in for truth, no matter the cost!. Every guy should teach a girl to properly make a fire… Hurry! I clamber to quickly bunch and maneuver a few more sheets of old newspapers through the blackened grid of the fireplace, poking it into gaping gaps at the bottom of the wooden logs. The logs I thought I'd packed and piled like a boss to charge up the heat for frank red-hot chats with God and a gilded discussion to lead you to a piece of solid gold.
Relief. As we speak, I've just poured coals over a flaming fire and I'm throwing the 'don't touch' and now added 'run-away' labels into the fire, to burn. Respectfully, after being hauled over the proverbial hot coals with a little truth talk from my family last night, I'm somewhat intrigued at the sudden need to uphold vulnerability and share a golden moment with you – the onset of a spiritual awakening. My friend, it's 5 am here at the fireplace. And we're heading for a God appointment! I'm kneeling. Will join me? By that I mean, I'm not here to impress you. Now, will you really join me? Are you open to letting your guard down for a 'new normal'? Anticipate God speaking truth into your own heart. Perhaps a truth your 'weird' needs to hear in the next few moments, wherever and however you are. Here, with me, let us surrender to our Father's protection over our hearts and minds and allow for Him to write on them. And if you'd also like to throw your 'don't dare touch' label in the fire right now, I'm cheering you on. If it's hot, don't run!
I sense to share with you a sunset photo I took yesterday of the old plough. She's gracefully ancient, with a new second-hand seat. This plough is out of use and we've moved her to the front of the stead to look pretty alongside the farm's tallest fully-grown blue gum tree. For show, she looks over vast hues of golden dry savanna grasslands. And can see for miles, watching the glow of the Karoo mountains in the distance with every dusk and dawn.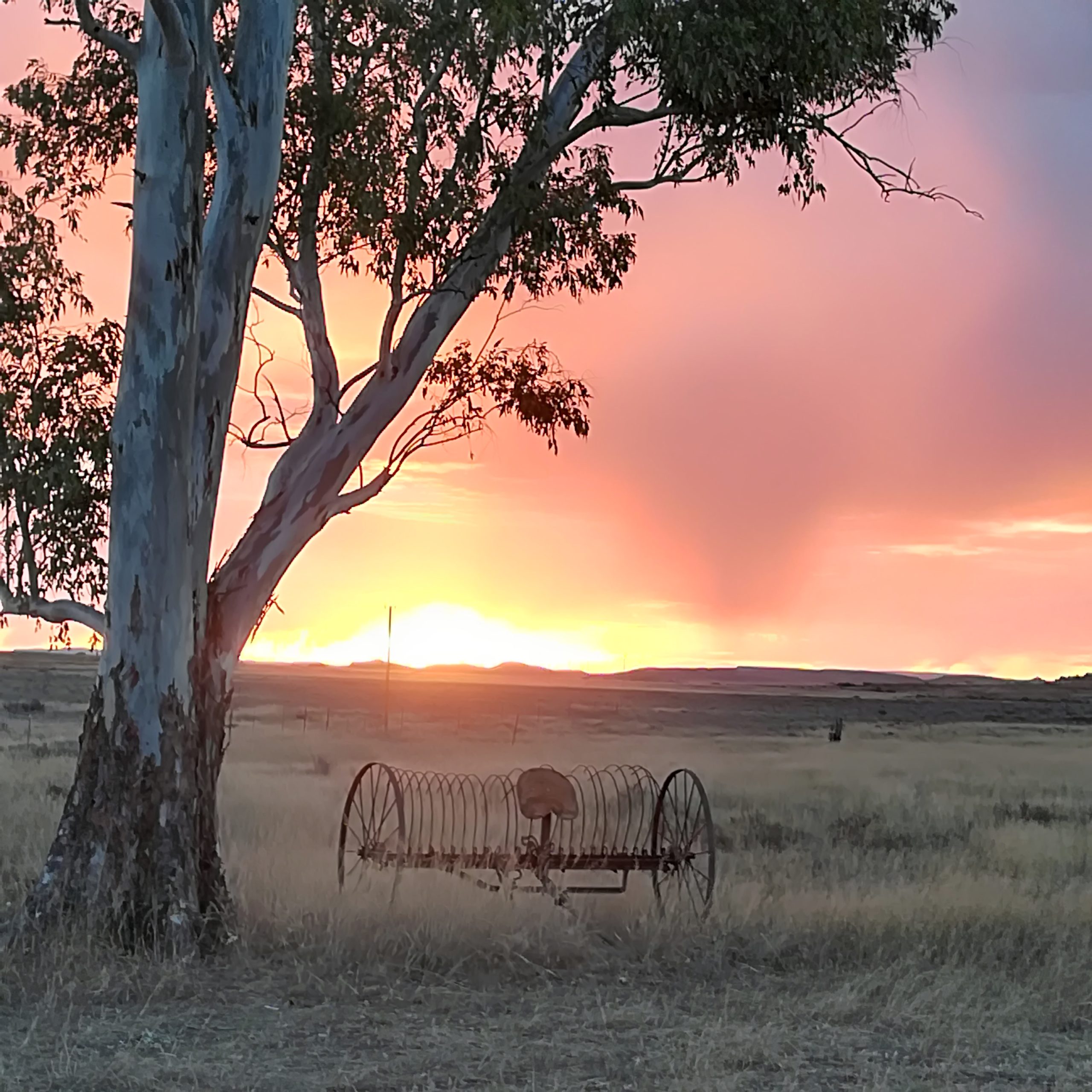 When she's working, the plough gets her hands dirty and turns over the uppermost soil (like I've just done with the fire). The important work of the plough helps to bring fresh nutrients to the surface. She prepares the soil well for planting. With the plough in mind, I have a question to ask you regarding the inhibitions preventing you from being vulnerable:
Is the churning of certain circumstances in your life hindering your capacity to live joyfully, share freely, and love and embrace others?
Perhaps you can recall a time in your life you've been turned upside down and felt as though a plough is excavating and extracting excruciating pain in your heart like a larger-than-life lump of hot coal thrown in the fire.
As we sit together here with God and our most vulnerable inklings around the fireplace, I trust our Father will bring a personal experience to mind; a lump of hot coal in your heart, to consider. Move no further, until He has.
With this, and the picture of the old plough in mind, alongside the warm coals thawing our feet, the Holy Spirit is whispering two key elements in my ear. Divine graces to bear in mind:
Pain is the biggest opportunity
Better your worth
UN-COMPLICATE PAIN, IT'S THE BIGGEST 'OPPORTUNITY'
Two factors move us forward in life: pain and consequence. When we feel pain, perhaps it is to motivate us on a hard floor to get moving with the fire of the Holy Spirit. In our respective circumstances, what if we started thinking of pain 'simply' and un-complicated that horrible word 'pain' in our minds. Perhaps pain simply and conceivably is mere 'preparation'. Nothing more. As we sit here at the fire, my friend, I sense to break over you the mindset that 'pain' and 'weak' is complicated, difficult, and traumatic. The English thesaurus tells us 'pain' means torture, discomfort, distress, heartache, menace. What a damning report! Isn't it ironic I'm having to get my hands dirty and stoke this fire again now? Yes, it hurts! Of course it does. It's not real to go through life expecting euphoric bliss without a little pain. We can, however, disentangle the horrific mindsets we've been taught of the heartfelt words 'pain' and 'weak' and break their captive strongholds of pride over our vulnerability and our ability to forgive and live joyfully. In our pain, our sinful nature shouts "protect yourself!" so that nothing or nobody hurts us. When we don't trust God for our protection, our pain can prohibit our capacity to engage in help and stifle God's extravagant love and goodness in our hearts and minds and over our doings. We, ourselves, suppress the most incredible power when we refrain from engaging our pain before God and lamenting to move us forward in the direction of goodness.
Allow me if I may, as we stoke the coals, to tell you a real-life testimony; the story my family articulated around the fire last night which has led to this morning's deliberations. It's a compelling testimony of a middle-class Australian woman from Sydney who experienced copious pain in her life. At the age of twenty-seven, she was controlled and trapped into sex trafficking at the hands of her boyfriend. A master manipulator who brutally forced her to work as one of his prostitutes. He punched her, threatened her with a warmed knife blade, and forcefully raped her repeatedly. He bought her expensive gifts, then traded her around the world. After some time in Miami enduring harsh punishment, she escaped from prostitution under his rule by convincing him to let her return to Australia to renew her visa. Once home, the woman told her parents a lie. She said she wanted to work as a prostitute and return to this man (her perpetrator) in Miami again. The woman had been manipulated into depending on her perpetrator for income, generous gifts, and the safe well-being of her family if she adhered to his manipulation. Fearing for her family's lives, and hers, the woman had lost her soul, to her offender. She grieved the gifts she would no longer have from him, and she worried about the safety and protection of her family if she didn't return to her perpetrator. She grieved the shame she would endure when she exposed her weaknesses. The woman couldn't be vulnerable and portrayed a false strength to the world and to those she loved. Even to her parents who ultimately approached the federal police for help. For the woman, a five-hour police interrogation endured. Finally, the woman embraced her vulnerability and spilled all the beans on the man that almost cost her, her life. After hearing her truthful account, the U.S. Authorities and Australian Federal Police launched a joint investigation. The first case of its type ever heard under new international human trafficking law. Six women testified. The perpetrator was arrested for twenty-seven years in a court case that lasted a mere six hours.2
In our world today, you and I must contend for vulnerability.  The stakes are high.  Higher than we think they are because the goodness of God is past our finding out. Pain, we all know is not insignificant. We feel it. According to history, pain is the greatest awakener the world has ever seen. Pain is surely then, an incredible opportunity. It is the invitation to unleash the power of God!
In my own life, born from painful experiences, I have known such goodness in vulnerability.  The most precious letter I received is a simple two-liner from a girl who wanted to comit suicide.  I keep it in a file in my office as a reminder to rely on God's protection and take up the opportunity for awakening when I'm called or led to release inhibitions and share the real blood, sweat, and tears stuff. "You were hard on me, but thank you, you saved my life!" she said.  Profound vulnerability carries the potential to save someone's life. I cannot help but wonder where this girl would be if I didn't share my pain with her.
In your pain, may you see the potential of a great seed that is churning to be released with the power of goodness, for the good. A gem of an opportunity that is driven and protected by God because you're letting go of what pain is and unraveling it to be the price of Jesus! It's tough! But of all the people in the world I'd love to meet, show me the man who's wrestled with God! The one who's experienced the blood-red of battle, the blues of reaching for the depths of the ocean and the elevated heights of heaven, the plum sweetness of scarlet royal inklings, and the washed white of the pure translucent light of God. That's the man I want to know. Because he is a weak man that has been interwoven with gold, extracting the tapestries of goodness and glory from mysteries way beyond our imagination. A place of vigorous power where the fire has been stoked, the plough has worked its moving miracles, and the victory is won in the strength of weakness.
BETTER YOUR WORTH.
I look upon this fire now, warming the ice-cold air of daybreak and satisfying every need, even the want for that first-morning hot coffee. At this moment, I have no desires: for a blanket, a drink, a rainy sky, a beautiful view. Just total satiety. The temptation to leave this hard floor and these hot coals to open the curtain at first light and look out at the new windmill pumping is getting me going. I'm motivated for the day. Challenged to impact a desperate world and aware of the unused opportunities we hold for so long. So I rise to swing open the heavy curtains to a window looking out onto the fresh veld and iced topped mountains in the distance. Glittering. From the lands to the clouds, the view is layered with soft hues of pink, blue, purple, white, and gold as the air wakes to move all of nature with the sun into their destined positions, singing, ranking in layers, and transforming in order, moment by moment. The cock is silent. God is in control! Oh wow, what a surprise. Twelve Springbok rams grazing restfully right here in the house camp. How beautiful!
Once upon a time, this morning was an uncomfortable and excruciating experience. Truthfully the chickens and the dogs took their first-morning gallop before dawn, abruptly waking me, stirring the entire household, with the dogs cranking up the old wooden floors as though their paws were beating the most popular drumbeat of all time for a large stadium audience rather than the peaceful awakenings of the veld. Quite frankly, I would rather have been chilling in bed continuing my awesome dream or listening to two owl chicks competing in their nest, ranting for food with ear-piercing screeches right outside our window. But this morning has turned out to be an inspiration because it hasn't been 'monotone'. It's been chaos. In the long run, however, the household and the dogs went back to sleep, the chickens have laid fresh eggs for a Karoo breakfast, and you and I got to chat with our Father about the real pain in our lives. Often, I don't see the vibrant 'beautiful' colours of my 'pain'. I decrease the worth of my 'pain' for something so awful you wouldn't want to touch it, ever. Something that's not blushed with the glowing colours of the rainbow because all I've seen is the uniform noise and sickness of the world.
And so it is with you. My dearest friend, you were made to express the glory of God. To exuberate Him. That means to represent, describe, depict, picture, expose, reveal, and show off the hints of gold He sanctifies you with. To be like Him! With this I challenge you today: Like the fire, the plough, and the sinful woman, whatever your perspective of 'you' is, take it a few notches up! Take it a good plenty notches up. Take it from a note of black and white to intrinsic colours! John Piper said this;
"You were made for something infinitely better than yourself. Your own worth could never satisfy you – ever."
After sitting prayerfully this morning at the fireplace with our Father and you on my heart before the crack of dawn, I feel like I know you a little better. A person that has experienced pain in your life and has stood the test of time. A person in need of some smashing goodness. The truth is, I really don't know you better. But today I do know this. You are way MORE colourful than you thought you were or think you are! Perhaps it's time to throw caution to the wind and take a new picture of yourself, then let your heavenly Father write it on your heart and in your mind.
"This is the covenant I will make with them after that time, says the Lord. I will put my laws in their hearts, and I will write them on their minds."

HEBREWS 10: 16 (NIV)
Today, may you contemplate and know there is gold in the hidden treasure of that word we've come to know well … 'pain'.  Sometimes we don't understand the reason our worlds are made difficult. Nor why desperations are not given for sanity. Un-humane happenings are despicable in the world today. We don't understand why our treasured cares are taken away and life is distasteful.  We easily blame God for our excruciating dilemmas and can't fathom why our God in whom we trust is not fixing our worldwide pandemics with the rod of Moses, now!  More than before, we are living with the greatest opportunity, ever! When we comprehend presenting tragedy with opportunity albeit painful, and implant it with God's gracious love, the picture always looks more beautiful and stronger than what we can perceive.  In our pain, our Father God is teaching our hearts and minds to be distinguished and refined.  He's all over our weaknesses and sickness. Behold then, the love and goodness of God in your life today. Be a man with a limp that contends with God for His divine graces, and doesn't settle for just a walking stick.  It is often through pain, the most profound grace and healing flows. Is that not the unglamorous story of the cross? The real deal! 
Our chat today has led us to forgo a 'glamorous gospel' and go about sharing our journeys with others by turning our tragedies in to look at Grace Himself.  In your life where you are walking with a limp, and the floor is hard, a vulnerable opportunity will soon arise. We can find great encouragement in being appreciative of the Mercy Seat and in noting these further wise words of Spurgeon;
"God's goodness without His sovereignty does not completely set forth His nature."
I look upon the mountains today and although I confess I'm truly not completely healed of real pain in my heart and mind, perhaps I do want blood-red in my life. Because out of it God makes the best sparkling light!
He puts the light into the stars.
He sets the sun to dawn in time.
And in the dry valleys of gold, variants of honey, or
on the blue and white mountain tops, glittering,
the scarlet in the rainbow, around she'll surely come!
Would not a God that trails the stars with His robe, fashion His glory all over and into our giants with all of His great pleasure? Untangled, perhaps our 'pain' is quite simply, 'preparation.' To bring us to a place of prayer, where 'prayer' is the greatest power in the world! Beloved friend, let us re-define what weakness is, and trust in the process of infusing our tragedy with grace; our Father's sovereign work, and His constant love writing on our hearts and in our minds, for the sake of others.
In our pain, we must live according to our preparation, not our potential. Like the fire and the plough, the battle is won or lost in the preparation. A humble place we come to realize, there will never be more potential waiting to be unleashed.
Seize the opportunity my beloved friend, for you are entirely worth the price of Jesus!
Notes:
1 – 'Pantoffels' is an Afrikaans term meaning 'slippers'.
2 – "Taken," YouTube video, 11:45, posted by 60 Minutes Australia, April 10, 2018, https://www.youtube.com/watch?v=ZcRgkWsdL0g.